Watermelon Limeade Popsicles With Rebecca From Nourish Nutrition
In the heat of summer, enjoying the outdoors and staying hydrated are equally important. Right?! I'm Rebecca, the wannabe seasonal eater, registered dietitian, and recipe developer behind the scenes at Nourish Nutrition Blog. I share a variety of quick and easy recipes for busy people that are not only delicious but nourishing. Today we're whipping up an easy treat: watermelon limeade popsicles.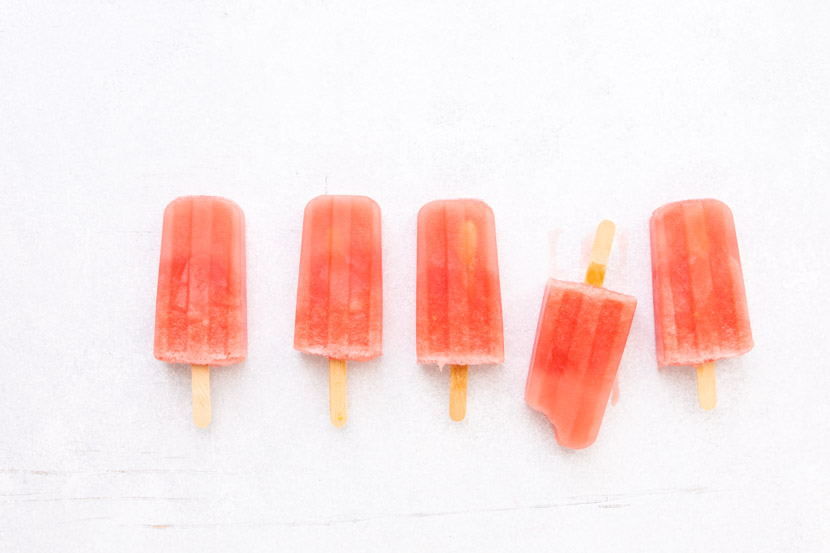 Water's Essential, but Sometimes Boring
While I am 100% a fan of water for hydration, I've got to be honest, just plain old water doesn't always sound refreshing, especially after a day in the hot sun. That's where popsicles come into play. I love making my own popsicles because they're easy and you can choose fresh and frozen fruit to add to them, so you know, they actually taste like yummy fruit. I know it's so easy to go to the store and buy a box of popsicles, but take my word that these watermelon limeade popsicles are so easy, less expensive, and probably have more nutrients and (a bit less sugar) than what you can find at your local grocery store. I like making my own limeade here because I can make it really tart, which I love, especially after being outside in the heat.
Find a Healthy Balance Between Natural Sweetness and Added Sugar
I love that a lot of the sweetness for this limeade comes from the watermelon, so in addition to getting a great drink, you're getting a good source of potassium, vitamin A, and vitamin C. And just to add my two cents about added sugar, because that's always a concern for my clients. My philosophy about added sugar is that sugar definitely plays a role in enhancing the flavor of foods. There definitely is space for added sugar in our diet. I encourage my clients to critically think about whether or not the added sugar enhances the food they're eating. For example, this watermelon limeade would taste fine without added sugar, because the watermelon is sweet on it's own, but is it delicious without added sugar? It may not be tangy enough, or sweet enough, so a touch of sugar will definitely make it taste better.
On the other hand: if you're so concerned about added sugar that you experience guilt for eating it, that's not healthy either. Take some time to think about what's reasonable for you, and try to pay more attention to the taste of food than its nutritional density, it'll help you reduce stress and guilt which is healthy!
Next time, try these other fruity combinations…
Cherry limeade: Add fresh cherries to your limeade.
Raspberry lemonade: Add fresh raspberries to your lemonade base.
Strawberries and cream: Freeze vanilla yogurt and strawberries in the mold.
Check out my resources to make eating well easier and delicious:
Download my free 15-minute dinner eBook: Nourish Nutrition 
Blog: Nourish Nutrition
Instagram: Nourish Nutrition
Facebook: Nourish Nutrition
Watermelon Limeade Popsicles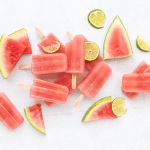 Stay hydrated all summer with these naturally sweet popsicles. These watermelon limeade popsicles only require a blender and a popsicle mold.
Ingredients
4 cups watermelon
1-1 1/4 cup freshly squeezed lime juice
1 tablespoon sugar
pinch salt
Instructions
Add watermelon, lime juice, and a pinch of salt to a blender jar. Pulse until smooth.
Pour watermelon limeade into a popsicle mold, distribute evenly. Place popsicle sticks in each mold. Freeze for at least 2 hours.
Enjoy!
Recipe Notes
You can easily adjust the sugar and lime juice to meet your own taste preferences.