Speech Pathology
We specialize in Bridging the Gap of Communication
If you or a loved one has difficulty speaking, swallowing, or even breathing, we're the team to call. The Speech Pathology specialty at Ogden Clinic's Professional Center campus in Ogden is a multidisciplinary team providing comprehensive treatment of the voice and swallow mechanisms. Our ear, nose, and throat (ENT) specialists work together with our speech-language pathologist to help patients of all ages who suffer from voice and swallow disorders.
How are voice and swallow disorders diagnosed?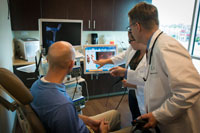 There are several tools available to explore throat and voice disorders, but the first step is a physical exam. An Ogden Clinic speech-language pathologist will examine your throat, performing acoustic/perceptual analysis for our voice patients and an esophageal analysis for swallow patients. Your speech pathologist may use video stroboscopy during your visit, a non-invasive technique that provides magnified, slow-motion views of the vocal cords in action. During stroboscopy, a slender and flexible endoscope is inserted into the throat to help your provider examine any stiffness or movement irregularities inside your throat.
After a thorough evaluation, our ENT physicians and speech-language pathologist create an individualized plan with therapeutic exercises and medical intervention if required. Each plan is customized to meet the needs of the patient.
Who can benefit from ENT Speech Pathology?
We are trained to diagnose and treat conditions that affect swallowing, speech, and voice. Sometimes these conditions are the result of an accident or an incident such as stroke. For others, a slow progression of voice deterioration can develop if patients use their voice frequently. People who seek treatment for speech pathology include:
Professional voice users (singers, actors, public speakers)
Pediatric and adult patients with voice disorders
Apraxia and dysarthria (motor-speech disorder) patients
Aphasia sufferers
Patients with cognitive and communicative disorders
Select providers are now using Telemedicine.
Visit Telemedicine to see if your next visit can take place over video chat.
Right Career, Right Here