What's up With the Teal Pumpkins?
Halloween is just around the corner. And for some families, that means not only decorating with ghastly ghouls and spooky witches, but with teal-colored pumpkins, too. Have you seen teal-colored pumpkins in your neighborhood? Did you know this new trend has a purpose that affects thousands of trick-or-treaters around the country? Learn about the teal pumpkin pledge and how you can participate this Halloween.
Why teal pumpkins?
Every Halloween season, hundreds of thousands of people band together in an act of solidarity, and, more importantly, to promote safety. Launched by Food Allergy Research & Education in 2014, the Teal Pumpkin Project asks households to make a simple pledge:
"I pledge to show some extra kindness to the kids I know. I'll get some non-food treats at the store, like glow sticks, bracelets, stickers and more! I will put my teal pumpkin on proud display, on my porch, in a window, or on a bale of hay. My teal pumpkin means I support children with food allergies, because all kids deserve to have a safe, happy Halloween."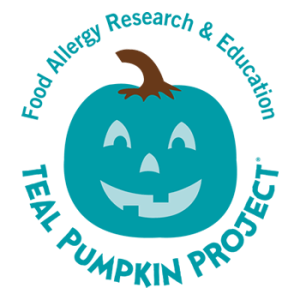 The Teal Pumpkin Project is a great way to show solidarity for kids with allergies. According to Dr. Bryan Wilcox at our Mountain West ENT location, "A few foods constitute 90% of allergies in children. They are peanuts, tree nuts, milk, eggs, soy, wheat, and shellfish." Allergies have been increasing in recent years, and some kids can end up in the ER from eating candy containing those ingredients.
However, a teal pumpkin on the front porch is a message that your house has non-food items for trick-or-treaters who need them. If your child suffers from food allergies, then trick-or-treating can be a stressful thing, rather than a fun family event like it should be.
How can my family participate?
To participate in the Teal Pumpkin Project, families are instructed to paint and place teal-colored pumpkins on their doorstep to indicate that non-food treats are available for those who meander by. On Halloween night, have treats available that do not contain allergens such as:
Small toys
Vampire fangs
Halloween tattoos
Slinkys
Glow sticks
Colored pencils or crayons
Play-Doh
Bubbles
Spider rings
All of these non-food treats can be purchased locally (try your local Dollar Store) or on websites like Oriental Trading or Amazon.
Participants are also encouraged to add their home to the participation map created by FARE.
Over 100,000 households have already taken the pledge and many more have promoted the campaign since its launch in 2014. Will your family be participating this year?