In-house Lab Tests Available at Ogden Clinic
Ogden Clinic offers a full-service high complexity lab at our Professional Center in Ogden. Onsite lab tests are also available at most locations for common ailments and wellness screenings. Our lab professionals do everything from preventative tests to complex orders from specialty physicians in over 20 medical specialties. See below for a full list of lab tests available at Ogden Clinic.
2hr Glucose Tolerance Test
3hr Glucose Tolerance Test
ABO/RH
Albumin
Alkaline Phosphatase
ALT
Amylase
Antibody Screen
ASO Screen & Titer
AST
Basic Metabolic Panel
Bilirubin, Direct
Bilirubin, Total
B-Type Natriuretic Peptide (BNP)
BUN
C02
Calcium
Chlamydia/Neisseria gonorrhoeae, PCR
Chloride
Cholesterol
Clostridium Difficile B Gene, PCR
Complete Blood Count
Complete Blood Count w/manual Diff
Comprehensive Metabolic Panel
C-Reactive Protein, Quant
Creatine Kinase (CK)
Creatinine
Culture, Body Fluid/Joint Fluid
Culture, Ear
Culture, Eye
Culture, Genital
Culture, Group A Strep Throat
Culture, Group B Strep
Culture, Upper Respiratory
Culture, Urine
Culture, Yeast
D-Dimer
Electrolyte Panel
Epstein Barr Virus EA, IgG
Epstein Barr Virus NA, IgG
Epstein Barr Virus VCA, IgG
Epstein Barr Virus VCA, IgM
ESR
Fecal Occult Blood
Fecal Occult Blood x3
Ferritin
Folate
Gastrointestinal Panel 22
Glucose
Glucose Fasting + 2hrpp
Gram Stain
Group B Strep PCR
HCG Quant
HCG, Serum
HCG, Urine
HCT
HDL
Helicobacter Pylori Breath Test
Hemoglobin A1c
Herpes Simplex Type 1 IgG
Herpes Simplex Type 2 IgG
HFP
IFOBT
Influenza A&B Screen
INR
Iron
Iron/TIBC
Lipase
Lipid Panel
Magnesium
Microalbumin/Creatinine Ratio Urine
Mono Screen
Phosphorus
Potassium
PSA
Rapid Strep Screen
Respiratory Panel 21
Reticulocyte Count
Rheumatoid Arthritis Screen and Titer
RPR
RSV Screen
Rubella
Rubella, IgG
Sodium
Sperm Count (Post-Vasectomy)
T3 Uptake
T4
T4, Free
Total Protein
Treponema Pallidum Antibody
Triglyceride
TSH
Uric Acid
Urinalysis with Microscopic
Urinalysis without Microscopic
Vaginosis/Vaginitis Panel
Vitamin B12
Vitamin D 25-Hydroxy
Wet Mount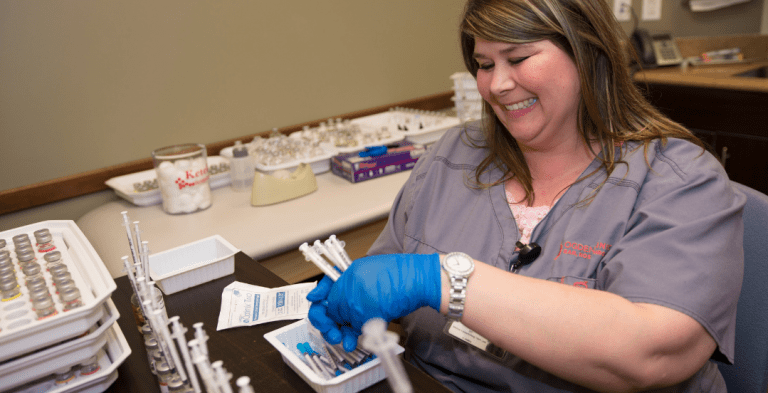 To schedule a visit or check out our locations, please visit OgdenClinic.com.