6 Top Rated Apps That Can Improve Your Health
There really is an app for everything—even apps to improve your health. One recent study found that people who use fitness apps were much more active than non-users and they even had lower body mass indexes. The researcher concludes that apps can help users overcome barriers like the lack of understanding and lack of planning in their pursuit.
If health improvement is on your radar this year (and it should be!), these top-rated health and fitness apps can help you stay informed, stay focused, and stick to a routine.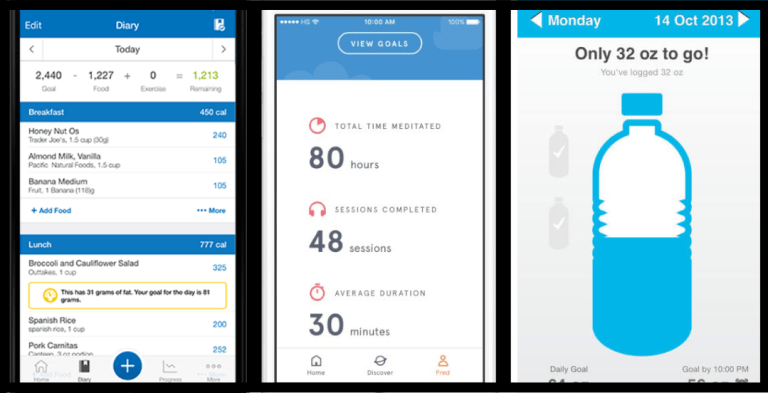 MyFitnessPal
With over 15 million users, MyFitnessPal is consistently ranked among the top health apps. MyFitnessPal helps to educate users about balancing the calories and nutrients in their diet. More than 5 million foods are held in the MyFitnessPal database, and the free app even includes a barcode scanner and recipe importer for easy tracking.
Sleep Cycle
Getting adequate sleep is one of the best things you can do for your overall health. Sleep Cycle helps users not only receive enough sleep each night; the app can even help you wake up on the right side of the bed.
Using sound and movement analysis during the night, Sleep Cycle tracks your sleep cycles and ensures you wake up during your lightest sleep cycle. Set your alarm within a 30-minute window and Sleep Cycle will wake you up at an optimal time during that window.
Headspace
Exercise is important, diet is important, but what about mental health? Headspace is the leading meditation app available. As more and more studies demonstrate the benefits of mediation, Headspace makes getting started with meditation simpler than ever. Headspace provides guided meditations which are helpful in reducing stress and improving focus. The app can increase your self-awareness and offer a greater sense of perspective.
Instant Heart Rate
It's crucial for you to keep tabs on your heart rate during a workout and ensure you're working hard (but not overexerting yourself). Instant Heart Rate is one of the fastest and most accurate mobile heart rate monitors. In addition to giving you a quick BPM reading, the app tracks your heart rate over time to provide an informative report.
Fooducate
This grocery shopping app helps you find food items with the best nutrition while you shop. Simply scan the barcodes of over 250,000 foods in their database and Fooducate will tell you just how good you those foods are.
What are the criteria for "good food"? Fooducate takes into account total calories, fiber, sugar content, vitamins, minerals, and more. Start feeling better about food choices without the guesswork.
Waterlogged
Water is vital for us: it transports nutrients into cells, regulates body temperature, prevents constipation and illnesses, helps regulate metabolism, and more. Waterlogged helps users track the amount of water they drink and set up reminders to drink throughout the day. Users can easily view their daily water progress and customize the app based on the size of the water bottle or glass they use. This app's free from Google Play and the App Store.
Which app has helped you the most in your pursuit of a healthier life? Do you use any of the apps listed above?