When Life Happens: Walk-in Sports Medicine Clinic at Ogden Clinic
Category: Sports Medicine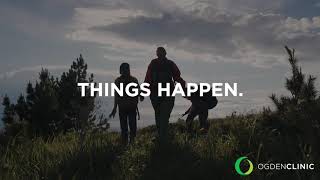 About this Video
When Life Happens: Walk-in Sports Medicine Clinic at Ogden Clinic
As we're out enjoying the beautiful weather, the goal is to have fun, but sometimes an accident or injury can happen. Bumps, bruises, sprains, fractures...we're here for you–just in case!
Avoid the emergency room and get treated quickly at our walk-in sports medicine clinic at our Professional Center South location on Harrison Blvd. in Ogden or at our Ogden Clinic Kaysville location (537 N Kays Dr, Kaysville, UT).
Have fun, stay safe! We're here–just in case!