5 Easy Ways to Reduce Healthcare Costs
Co-pays and deductibles eat up plenty of cash every year. Even if you have good insurance, you're probably paying more for medical expenses than you'd like to. The unfortunate truth is that healthcare in the United States is more expensive than anywhere else in the world. The good news is that it's possible to shave some of the cost of healthcare—and we have five ways to get started.
Take advantage of pharmacy changes, coupons, and generics.


There are a few ways to save on prescriptions, especially those you take on a regular basis.
If you take prescription drugs on a regular basis (such as birth control or cholesterol medication), find out if your insurance offers a mail-order option. Mail-order pharmacy services usually offer a 90-day supply for a better price than you'd pay at the pharmacy.
If you take a name-brand drug regularly, check the drug maker's website to see if they offer a coupon or a discount. It's surprising how many manufacturers offer coupons.
You can also price-check popular generics. Ask your doctor whether you'd be able to swap out your current medication for a cheaper one. Every major pharmacy chain and big-box store offers discount generic-drug programs; check out popular pharmacy discounts here.
Avoid the ER for non-emergencies.
Emergency rooms are attached to hospitals: the most expensive place to receive care. When you think of the ER, think of true emergencies like chest pain, trouble breathing, persistent bleeding, or unconsciousness.
For other medical concerns, consider urgent care. Urgent care facilities are not staffed 24/7 but many of them have extended evening and weekend hours. The average co-pay for an urgent care visit is considerably less than the ER and many non-life-threatening emergencies can be handled here. Learn the difference between Urgent Care and the ER here.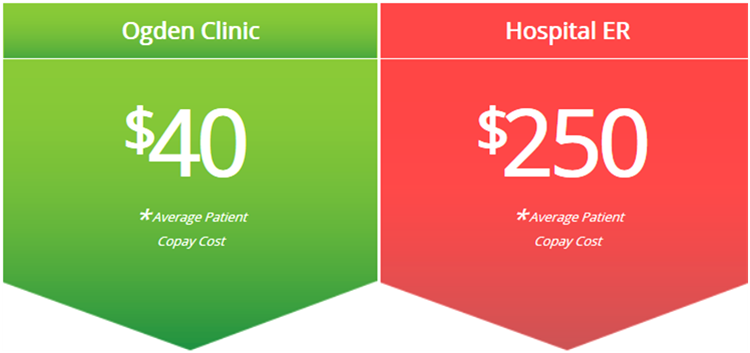 Stay in-network if you can.
Before you schedule a visit with that specialist your friend raved about, check to see if they're in your insurance plan's network. Even if you have a preferred provider organization (PPO) plan that allows you to go out of network, it may not cover as much as you think (and you're on the hook for the remaining balance). Every insurance plan must have a range of qualified specialists, so always check your network and try to find a specialist inside it.
Where to find an in-network provider:
Your insurance plan's website will have a searchable list of providers, so start there. When you find someone you're interested in, call their office to check availability and wait times. You may also want to ask about convenience features like online bill pay and weekend coverage.
See your doctor and get your screens.
If preventative care isn't a priority of yours, you're not alone. Who wants to visit a clinic when they're not sick? Who wants to miss work to get their blood drawn?
It's easy to brush off a routine check-up but the importance of preventative care can't be overstressed. Whether you're a toddler or an old-timer, visit your primary care physician at least once a year for an annual check-up.
During this visit, your provider can:
Discuss any concerns you may have
Ensure you're up-to-date on vaccines
Perform recommended screenings and tests
Evaluate current health status
Catch problems early
Health insurance plans must cover a set of preventative services (such as shots and screening tests) at no cost to you if your provider is in-network. See which preventative services are covered for adults, women, and children here.
Take care of your body.

Healthy habits can't prevent every type of illness, but they can lower your chance of some serious ones like heart disease, diabetes, and most cancers. A healthy lifestyle will save you money over the long haul on prescription drugs and frequent visits due to ongoing illness.
Living healthier doesn't mean you need to shop at specialty stores or purchase an expensive gym membership. You can make small changes today and set gradual goals for better health. Take a walk on your lunch break, challenge yourself to prepare meals at home, get enough sleep each night. These habits won't just help drive down future healthcare costs, they'll help you feel more energized right now!