Chocolate Zucchini Cake by My Own Meal Plan
Did you know you can get a heaping serving of veggies while eating a decadent, chocolaty dessert? Now that's a food win! Chocolate Zucchini Bundt cake is amazing: this cake is dense, rich, moist, and very, very chocolaty. If I hadn't told you there was zucchini in it, you would have never guessed. Shhh, it can be our little secret.

Hi there, my name is Alex from My Own Meal Plan and I am so excited to be here again with Ogden Clinic sharing one of my favorite Bundt cake recipes! My Own Meal Plan is my personal blog where I share my favorite recipes, tips and tricks in the kitchen, and my passion for cooking! My chocolate zucchini cake is so easy and delicious and it is the perfect treat for this time of year and your family is going to love it.
About Zucchini Cake
Zucchini is awesome because it's so inexpensive. This time of year, everyone is looking for new recipes to use up this delicious vegetable because it's harvest time. I love zucchini because it's versatile: I can use it to make noodles, eat it as a side dish, or use it as a boat to hold something like a Philly cheesesteak. Adding shredded zucchini to this chocolate cake is the secret that makes the cake so moist because of the high water content in the zucchini.
My favorite thing about this recipe is the subtle flavor of cinnamon that complements the rich chocolate. I add a teaspoon of ground cinnamon as well as cinnamon apple sauce and it really takes the flavor to a new level. Everyone who samples this cake cannot put it down! You won't be able to either! Let's get cooking!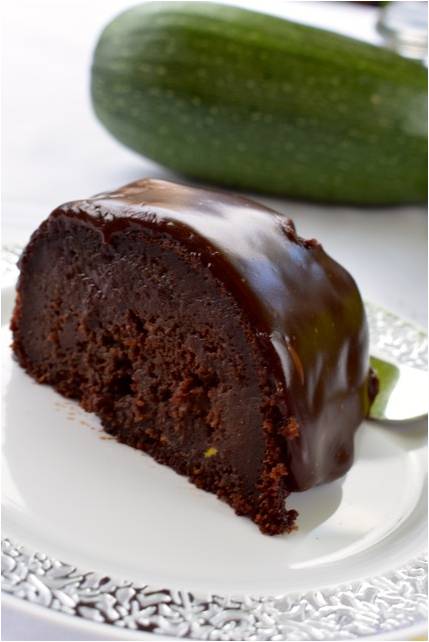 Chocolate Zucchini Cake Recipe
3 cups shredded zucchini
1/2 cup cocoa powder
2 tablespoons softened butter
3 eggs
2 cups sugar
1 1/2 cups cinnamon apple sauce
1 tablespoon vanilla
2 cups flour
1 teaspoon baking soda
1 teaspoon salt
1 teaspoon ground cinnamon
1 1/2 cup chocolate chips, milk, or dark
Glaze
1 cup chocolate chips, milk, or dark
3 tablespoons butter
1 1/2 tablespoons light corn syrup
1/2 teaspoon vanilla
Instructions
Preheat oven to 350 degrees. Grease a Bundt pan. Peel and shred zucchini and wrap in a paper towel to remove extra water.
Combine sugar, eggs, applesauce, butter, and vanilla together. In another bowl, combine flour, baking soda, salt, cinnamon, and cocoa powder. Pull out about 3 tablespoons of the flour mixture to save for later.
Add flour mixture to the wet mixture and mix until combined. Add zucchini. Toss and coat chocolate chips in the reserved flour mix to help keep them from sinking. Add coated chocolate chips into the mix.
Pour into Bundt pan. Bake for 65-70 minutes until thoroughly cooked through. Let it cool for 10 minutes before inverting onto a wire cooling rack. Let it cool completely before glazing.
For the glaze, combine butter, chocolate chips, and corn syrup together in a microwave-safe bowl. Heat in microwave in 30-second intervals, stirring each time until smooth. Once smooth, stir in the vanilla and drizzle glaze over the cake. Serve.
Follow along for more delicious recipes and posts!
Blog: www.myownmealplan.blogspot.com
Instagram: @MyOwnMealPlan https://www.instagram.com/myownmealplan/
Facebook: https://www.facebook.com/myownmealplann/
Twitter: https://twitter.com/myownmealplan