Can Sleep Apnea Patients Finally Ditch the Mask?
The thought of a single night of uninterrupted sleep is but a dream for people with obstructive sleep apnea. The majority of people living with obstructive sleep apnea find relief from continuous positive airway pressure, or CPAP. And while CPAP is the most common treatment on the market today, it requires patients to get comfortable with wearing a mask to bed and packing it with them for travel.
CPAP is effective, but it's not for everyone. Dr. Doug Anderson, ENT Physician says "between 35% – 80% of sleep apnea patients are not using their mask regularly." Fortunately, there's a new option available: a discreet implant developed by Inspire Medical Systems. Since introduced in 2014, the Inspire implant boasts hundreds of successful outcomes. Dr. Anderson is now offering Inspire Upper Airway Stimulation in his office. Learn more about this innovative implant below.
How does the Inspire sleep apnea implant work?
Obstructive sleep apnea causes the back of your throat to collapse during sleep, causing snoring and difficulty breathing. To counteract this, the Inspire device stimulates the hypoglossal nerve, causing the throat and other relevant muscles to move and open up the airway again, allowing you to breathe and sleep peacefully. The device monitors your breathing patterns throughout the night and adjusts stimulation as needed.
Using your device is as simple as the push of a button. Click the remote before bed to turn the device on. In the morning, click the remote again to turn it off. When Inspire first turns on, you may feel a brief, slight tingling sensation or small involuntary movement in your tongue or throat—this is a normal result of the device powering up and shouldn't cause much discomfort.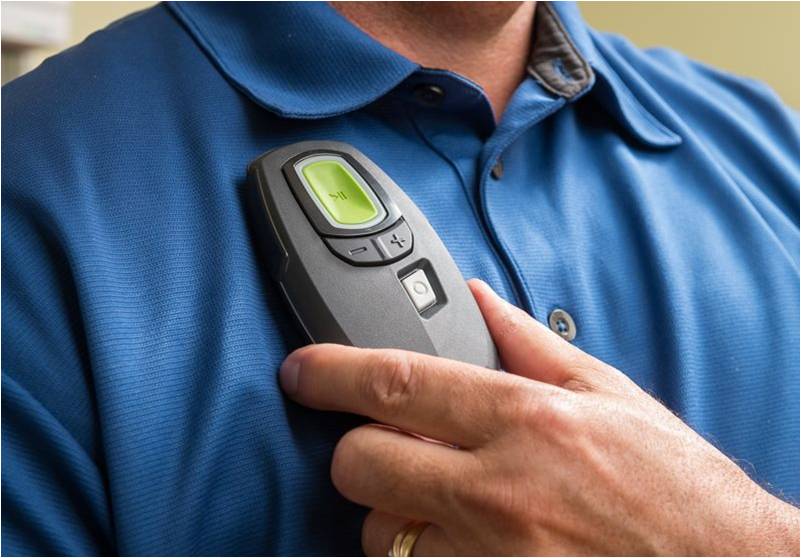 Source: Inspire Sleep
What does the implant look like?
Source: Inspire Sleep
The Inspire implant is not visible. In contrast to bulky CPAP devices, Inspire therapy has just two basic components: the three-part implant and a remote control. The three parts include a set of lead lines and a small generator no larger than a typical pacemaker.
Is implantation an outpatient procedure?
Yes! With three small incisions, the device is inserted under the skin around the throat and upper chest area—all using a general anesthetic in an outpatient setting. Most patients return home the same day and resume light daily activity and their regular diet the day of the procedure. Full recovery can be expected within a couple weeks.
Am I a candidate for Inspire sleep apnea therapy?
"This therapy is for patients with a moderate to severe form of obstructive sleep apnea" says Dr. Anderson, "we're happy to provide a consultation and coordinate with insurance to determine if you're a candidate." A few requirements for Inspire therapy are:
You must be diagnosed with a moderate-to-severe form of the disorder,
Must be in relatively good health
And you must be over age of 22
To schedule a visit with Dr. Anderson or learn more about this new sleep apnea solution, call his office at 801-475-3070 or request an appointment online.