7 Foods Our Weight Loss Doctor Always Has Stocked
Dr. Rohn Rigby is Ogden Clinic's medical weight loss specialist. He's double board-certified by the American Academy of Family Physicians and the American Board of Obesity Medicine. Dr. Rigby and his medical weight loss team have helped hundreds of people manage their weight and improve their quality of life. But what does Dr. Rigby eat on a daily basis? Today he shares seven foods he never runs out of.
Hard Cheese
Dr. Rigby follows here: high fat and moderate protein approach. Hard cheeses like sharp cheddar and parmesan pack plenty of flavors and it doesn't take much to liven up a meal. Dr. Rigby likes sprinkling sharp cheese on top of his meals or eating pre-portioned cheese as a protein-rich snack.
Eggs
Eggs are one of nature's best multivitamins: they're a source of fat, protein, and a powerhouse of nutrients. Dr. Rigby never skips on the yolk because it's rich in B vitamins, vitamin E, lutein, selenium, and folate. These nutrients play important roles in brain health, vision, and fighting inflammation in the body. Eggs also contain protein (about 6 grams per egg), which can help squash hunger and keep you feeling full for hours.
Pro-tip for keto dieters: Dr. Rigby suggests thinning out scrambled eggs with heavy whipping cream. This adds some volume to your eggs and makes them extra hearty.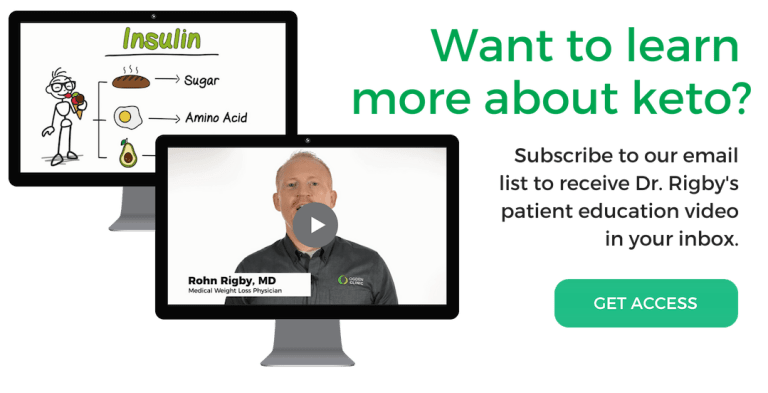 Plain Greek Yogurt
Another source of protein and healthy fat is Greek yogurt. Next time you need a snack that will hold you over between meals, reach for this one, which provides 6-7 grams of protein per serving and some satisfying fat. Be sure to read labels when choosing yogurt and pick one with little to no added sugar.
Pro-tip for keto dieters: Dr. Rigby suggests coarsely chopping nuts in a food processor or a blender (on pulse) and eating the mixture atop Greek yogurt. "I think of it like granola," he says.
Pickles
Pickles are the perfect post-workout snack due to their sodium content. The sodium in pickles can help replenish the body and even prevent muscle cramps. Pickling is a form of fermentation. When vegetables are fermented, healthy bacteria help to break down the hard-to-digest cellulose in foods, as well as some of the natural sugar. The healthy bacteria in pickles can help increase the good bacteria in your gut when eaten.
Avocados
One of nature's best fat sources is avocado. This fruit is prized for its high nutrient value and its rich flavor and texture. The heart-healthy monounsaturated fat contained in avocado is associated with reduced inflammation in the body and beneficial effects on genes linked to cancer.
The most abundant nutrients in avocado are vitamin K (26% RDA), folate (20% RDA), vitamin C (17% RDA), and potassium (14% RDA).
Redmond Real Salt
Real Salt contains several essential mineral electrolytes that improve hydration like magnesium, zinc, and potassium. To replace lost electrolytes, Dr. Rigby drinks a glass of cold water with a pinch of Real Salt inside. "It replenishes without the refined sugar and food dyes found in sports drinks," Dr. Rigby adds.
Bacon
Like most keto dieters, Dr. Rigby keeps the bacon stocked. Dr. Rigby preps a batch of bacon once per week and reheats it for added convenience.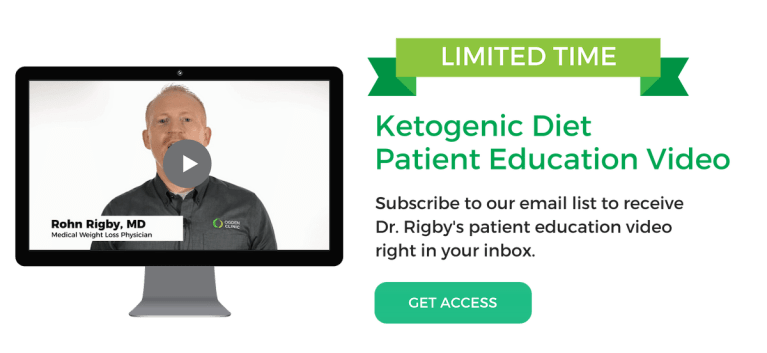 Curious about keto?
For a limited time, Dr. Rigby is unlocking the same educational video he shares with his weight loss patients. In this 6-minute video, he and his assistant Sheryl Bingham, FNP-C discuss:
The role of insulin in the body
How our bodies process and use macronutrients, and
The mechanisms affecting weight loss and satiety
For access to Dr. Rigby's video, click the link above and it will be delivered to your inbox!
NOTE: You will also be subscribed to Ogden Clinic's newsletter list. That means you're the first to know about new services and providers, promotions, announcements, and educational resources. Opt-out anytime.