Easy Pumpkin Pie Overnight Oats
Have you tried overnight oats yet? Overnight oats are one of the easiest breakfasts you can make, and they're suitable for a vegetarian or vegan diet. Simply stir oats, milk, and your choice of toppings together in a bowl or a jar, let them get acquainted while you sleep, and wake up to a hearty, satisfying breakfast waiting for you. It couldn't be easier.
A Few Healthy Reasons to Try Overnight Oats
This volume breakfast gives you more for less (calories).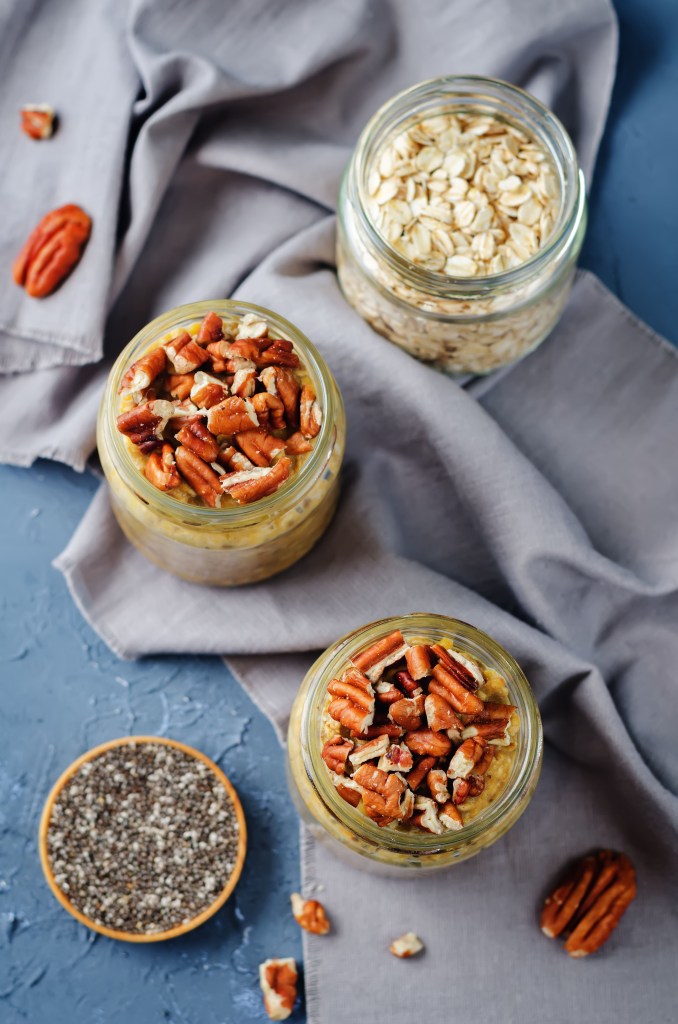 Overnight oats swell and quadruple in volume as they soak. Whether you're on a diet or just enjoy filling up with a hearty breakfast, this one fits the bill.
The addition of chia seeds boosts the fiber content.
Most Americans aren't getting enough fiber. Frontload your day with 6 grams of fiber by adding a tablespoon of chia seeds into you oats. Chia seeds are (relatively) flavorless and also expand when soaked–adding even more volume to your breakfast.
Ditch last-second fast food runs when you're in a rush.
No need to toast, scramble, or microwave anything while you're rushing out the door in the morning. Because they're prepared at night, overnight oats are ready to grab and enjoy. For some, this breakfast option can steer you away from making less healthy choices on your way to work.
Overnight oats can be customized to your liking.
From fresh fruit to hearty nuts and spice blends, you can create so many unique flavors using an overnight oat base. Need a little inspiration? Try this October-inspired overnight oat recipe from Ogden Clinic!
Easy Pumpkin Pie Overnight Oats
This set-and-forget breakfast can be whipped up before bed and ready for you in the morning. Inspired by fall with the flavors of pumpkin, cinnamon, and cloves.
Servings 1 jar
Ingredients
1/2 cup unsweetened vanilla almond milk
1/2 cup old-fashioned oats
1/4 cup pumpkin puree
2 tablespoons pure maple syrup
1 tablespoon chia seeds
1/4 teaspoon pumpkin spice seasoning
A couple drops of vanilla extract (optional)
Topping Options
Pecans, raisins, nut butter, even a little whipped cream
Instructions
Combine all ingredients except toppings in an 8-ounce mason jar (or another container) and stir well.
Cover and refrigerate overnight, or at least 4 hours.
When you're ready to eat oats, give them a stir and sprinkle on desired toppings.
Recipe Notes
For meal prep: You can make several servings at once and enjoy them throughout the week. Oats will keep up to 72 hours in the fridge.
For some extra protein: Replace vanilla extract with 1/2 scoop of vanilla protein powder before soaking.