The Success of Rezum® Three Years Later
In November 2017, Ogden Clinic Urology brought a new procedure to their practice called Rezum®. They called Rezum® a breakthrough solution for a problem that affects nearly 50% of men over age 50 and 90% of men over 80: Benign Prostatic Hyperplasia (BPH), or enlarged prostate.
Having an enlarged prostate takes a toll on a man's quality of life. Sleep loss is common due to getting up at night to urinate. Men frequent the bathroom throughout the day and may even have leakage from urinary urgency.
After three years of performing Rezum® (and nearly 300 procedures performed!) Urologist Robert Wayment is sharing the success of this treatment in his practice.
What Makes Rezum® so Innovative?
"In the past, there were two options to treat BPH," says Dr. Robert Wayment. "You could either take daily medication to suppress the symptoms or undergo Transurethral Resection of the Prostate (TURP) surgery." While TURP is still considered the gold standard for BPH, it's very invasive. According to Dr. Wayment, patients who have TURP surgery can expect an overnight stay in the hospital followed by a lengthy recovery that includes avoiding strenuous activity for a month.
"Along comes Rezum® as a much more convenient option for BPH symptoms," says Dr. Wayment. Patients no longer need to step foot in the hospital since Rezum® is performed in-office. Dr. Wayment's patients report that the procedure itself is relatively stress-free and recovery is more manageable. After Rezum®, patients go home with a catheter for two days and return to most of their usual activities within a week. "My eligible patients usually choose Rezum® because it's less invasive, less expensive, and the recovery is less taxing than TURP," says Dr. Wayment.
What are patients saying about Rezum®?
Dr. Wayment says the most rewarding part of bringing Rezum® into his practice is improving quality of life in his patients.
"Urinary urgency affects so many parts of a person's life. You stay near the bathroom at events. You have to pull over often on road trips and get up inside the crowded plane during travel."
Getting up to urinate three or four times per night presents its own problems. "We see sleep deprived patients who aren't performing as well at work or don't have energy for activities. This treatment really turns things around so men get more sleep, have more energy, and feel so much better."
To read more testimonials from Dr. Wayment's Rezum® patients, click here.
How do patients find you?
"Word of mouth is a huge referral for us," says Dr. Wayment. He recalls a span of time when four pilots in a row visited Ogden Clinic for a Rezum® consultation. "One pilot had such great success that he told his colleagues. Stories like this are common; happy patients tell their friends and family and send more patients our way."
Since 2017, Dr. Wayment has performed over 300 Rezum® procedures. "We've seen patients from Logan, St. George, Las Vegas, even Washington State and all the way up from Canada," Dr. Wayment says. There are a couple other providers in Northern Utah offering Rezum® but Ogden Clinic Urology has the highest volume of patients in the area.
How do patients schedule a visit?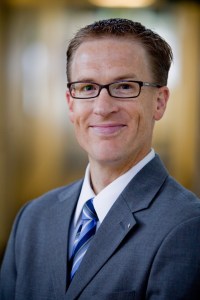 Dr. Wayment and the other urologists (Dr. Bradford Stevenson and Dr. Tyler Christensen) are always accepting new patients. "Visit us for a consultation and we're happy to see if Rezum® can work for you."
Ogden Clinic Urology is located at our Professional Center South in Ogden. To schedule a consultation, please call 801-475-3300 or schedule online here.