Interested in Meal Prepping? These 5 Pointers Will Help You Get Started
Looking to lose weight, gain muscle, or just improve your nutrition this year? Meal prepping is one of the best ways to reach any health goal. This strategy works for a few reasons. First of all, meal prepping gives you a food plan. You can prioritize nutrients like protein and fiber in your meal prep to ensure you're eating enough of those hard-to-get nutrients during the week. Meal prepping can also curve temptation when you're hungry because the food part is already taken care of.
But like most new habits, it's smart to have a strategy. Here are five pointers to help you start a meal prep habit from local food blogger April Tafoya at What's for Meal Prep.
Tip 1: Have a Solid Food Plan
Toward the end of the week, start browsing Pinterest, Google, or food blogs for recipes that look tasty for the upcoming week. You can either prep whole meals (like beef and broccoli or a big-batch chili) or staple ingredients to repurpose throughout the week, such as roasted vegetables and shredded chicken.
As a rule of thumb, I like looking for recipes with at least 25 grams of protein and 4-5 grams of fiber. Most people are deficient in both, so it's smart to load these nutrients into your meal prep. Protein helps with satiety (fullness) and regulating metabolism, while fiber contains essential vitamins, minerals, antioxidants.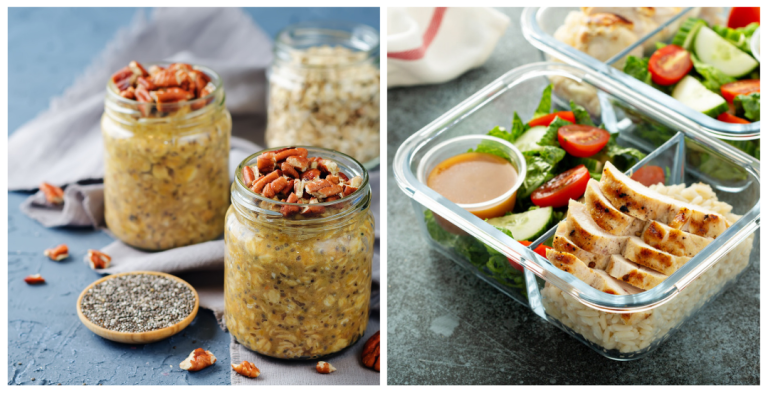 Tip 2: Shop the Perimeter
Ask a doctor, dietitian, or a health coach: the number one way to improve your diet is to eat real food. What does that mean? Consume food in its natural state—or close to it. An easy way to do that is to shop primarily in the perimeter of your grocery store. Get your fruits and veggies, protein of choice, pick up eggs, and shop bulk for nuts, seeds, and grains. And when you're browsing meal prep recipes, look for meals made with whole ingredients.
Tip 3: Multitask in the Kitchen
Many people get turned off because they tried meal prepping once and it took all day. There are several ways to shave time off your meal prep and make the process more enjoyable and maintainable. These are my favorite time-saving hacks:
Utilize your slow cooker or Instant Pot to make set-and-forget meals (like chili or soup)
You can also use the Instant Pot to prepare staples like rice, boiled eggs, or steamed vegetables
Marinate your protein the night before you're ready to eat it
Pick up pre-cut vegetables if you're pressed for time
While this won't technically save time, listening to an audiobook, podcast, or your favorite playlist while meal prepping will help the time fly!
Tip 4: Keep Wet Stuff Wet and Dry Stuff Dry
Meal prep's biggest enemy is excess moisture. It's usually the reason your food turned to a mushy mess on Thursday. But excess moisture can be avoided, and here's how.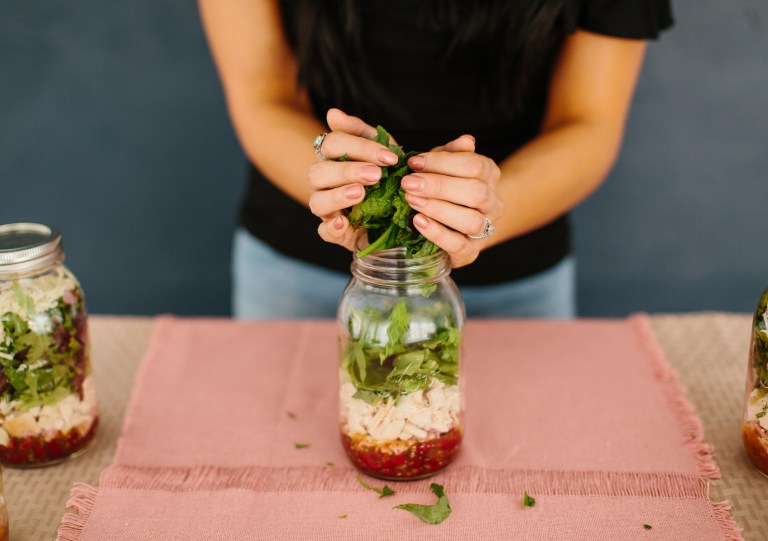 Do not pre-dress your salads, Buddha bowls, or anything you eat with a sauce or dressing. Instead, use condiment cups to store dressings alongside your meal.
If you are stacking food (such as a salad jar), always put the dressing on the bottom, followed by the most dense ingredients (like chicken or black beans). Stack it lighter and lighter up to the top.
Allow all of your meals to cool slightly inside meal prep containers before you add the lid. Securing a lid onto piping hot food will cause condensation.
When you're prepping or storing leafy greens, store them with a dry paper towel inside the bag or container. The towel will absorb excess moisture and keep your greens fresher longer.
Tip 5: Commit to Eating It
Wednesday afternoon feels much different than Monday morning. There will be moments when the glow of healthy eating wears off and you'll need to run on commitment to your goals. This isn't always easy, but it does get easier with time. Think of it this way: You prepped all this nutrient-dense food on Sunday, so don't waste it! Nourish your body throughout the week to support your health and wellness goals.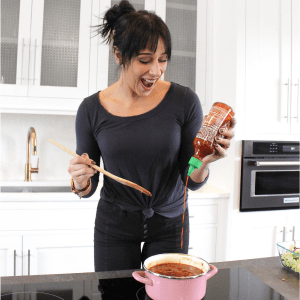 April Tafoya shares meal prep recipes on her blog. You can also follow her on Instagram, Facebook, or Pinterest.