Tackling Spring Allergies – Q&A with Colby Mitchell, PA
Spring has sprung, and allergy season will soon arrive in full force. We sat down with Colby Mitchell, PA of Otolaryngology (ENT) at Ogden Clinic, to ask him what allergy sufferers can do to make the most of the spring ahead:
Q: Do you see an increase in the number of allergy patients in the springtime?
A: Absolutely. We haven't seen patients with allergy-related cases come streaming through the doors quite yet this year, given that we're still in March. But perennial allergy sufferers are beginning to prepare for the season, that's for certain. Allergy-related cases usually peak in May and June.
Q: What is the most common problem caused by allergies?
A: In a word, congestion. But congestion is a funny thing. Many patients associate congestion with a runny nose or with post-nasal drip going down the back of the throat. The word "congestion" actually refers to swollen tissue in the nose or obstruction or blockage of the nose. Congestion often closes off the nasal airway, making it very difficult or impossible to breathe through the nose, regardless of the presence of mucus. That's the number one complaint we hear associated with allergies.
Q: What's the best way to treat springtime allergies?
A: The very best way to treat allergies is through avoidance. So if you know that you have tree allergies which pollinate in the spring, you'll want to minimize your exposure to that without living in a bubble. A realistic way to minimize exposure is to keep the windows closed in your car and in your home. Another good idea is to bathe or shower before bedtime, rather than in the morning – that'll help ensure that you're not contaminating your bed with pollen or other allergens that might be on your skin or in your hair.
Beyond that, the next line of defense is usually oral antihistamines. Many of the most-effective oral antihistamines have gone over-the-counter in recent years – Cetirizine (Zyrtec®), Fexofenadine (Allegra®), and Loratadine (Claritin®). When taking these medications, I've found that it's generally most effective to take them at night, allowing the medication to peak the next day.
The third line of defense is often an over-the-counter nasal steroid spray. These nasal sprays are usually the least-pleasant part of the regimen for allergy sufferers, occasionally causing discomfort or even nosebleeds. But if the sprays are used daily and administered properly, they generally do a great job – particularly when used in conjunction with oral antihistamines.
***
Colby Mitchell, an ENT Physician Assistant, works with Dr. Douglas Anderson in his ENT practice and is an active member of the American Academy of Otolaryngic Allergy and the Utah Otolaryngology Society. To schedule an appointment with Colby Mitchell, please click here or call 801-475-3070.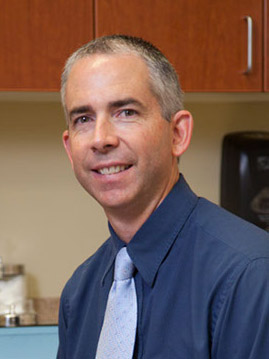 Colby Mitchell, PA