Lower Sugar Whipped Chocolate Dirt Cups Recipe
Happy Earth Day 2021! You may recall a unique childhood treat (and the unofficial dessert of Earth Day) called dirt cups! They're a simple no-bake recipe that usually includes chocolate pudding, crushed Oreos, and gummy worms.
Today we're sharing our take on dirt cups, with a few modifications that decrease the sugar content but still taste wonderful. Here are our swaps: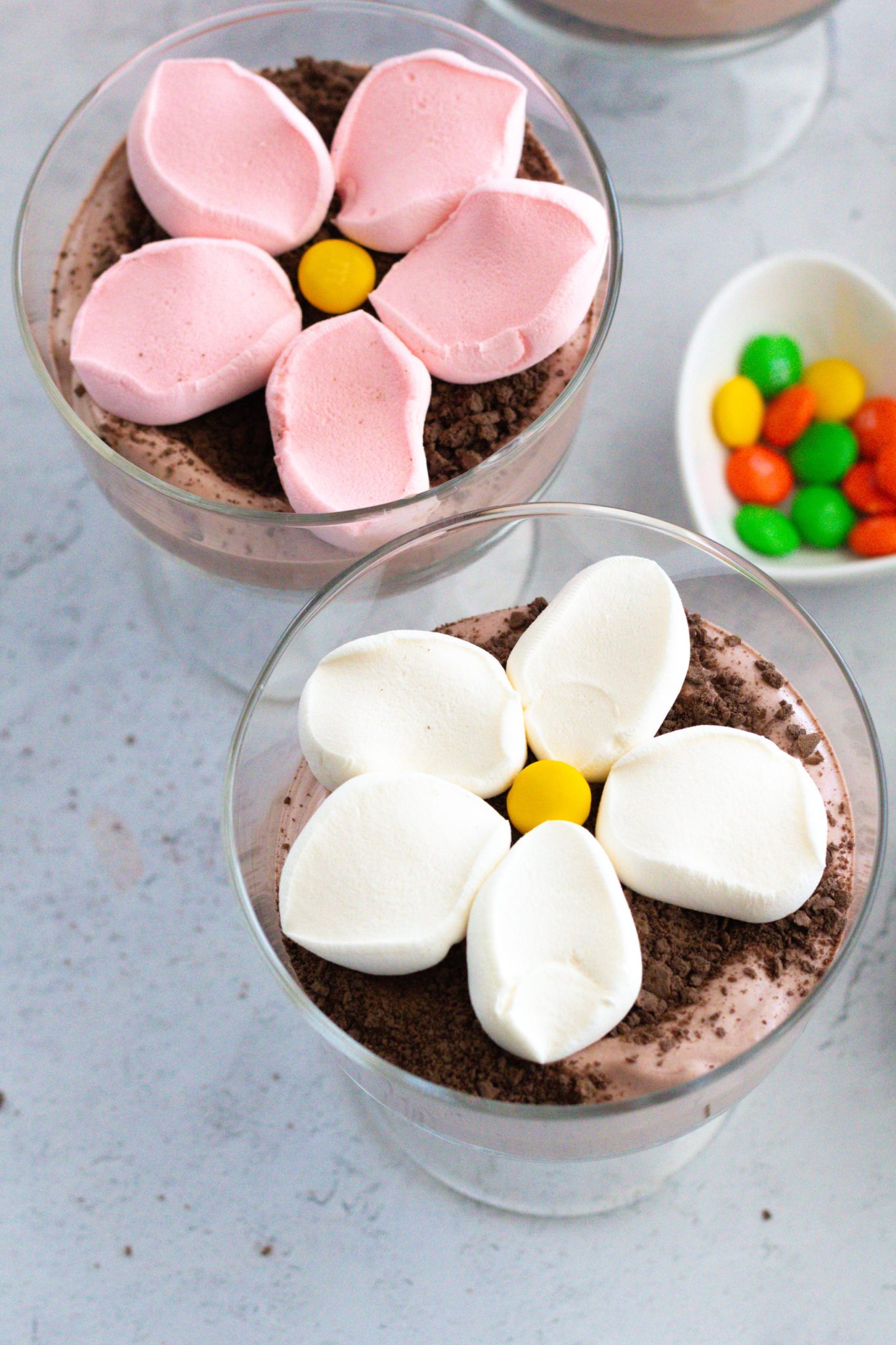 To the chocolate pudding layer, we incorporated frozen whipped topping. This creates an airy, whipped consistency that feels quite fancy to eat!
Instead of Oreos, we used chocolate graham cracker crumbles, which have the same grainy "dirt" texture, but less sugar and fewer calories.
And lastly, we're swapping out gummy worms with blossoming flowers that are almost too pretty to eat! These are so simple to make: just use a clean pair of scissors to slice a marshmallow into thirds. As you cut into the marshmallow, they naturally taper into petal shapes!


Whipped Chocolate Dirt Cups are Not Just for Earth Day
Mother's Day is also getting closer. Whipped chocolate dirt cups are an easy companion to Mother's Day brunch or any backyard festivities in the spring and summer months. We love how they're a little nostalgic, yet elevated and charming.
Lower Sugar Whipped Chocolate Dirt Cups
Whipped Chocolate Dirt Cups are a no-bake dessert made with just a handful of ingredients. Makes an excellent Earth Day or Mothers Day treat!
Course Dessert
Prep Time 10 minutes
Servings 4 servings
Ingredients
4 single-serve cups chocolate pudding
8 ounces frozen whipped topping (such as CoolWhip, slightly thawed)
8 sheets chocolate graham crackers (crushed)
8 to 10 jumbo marshmallows
4 M&M candies (for flower buds)
Instructions
Into a large bowl, add pudding cups. Begin incorporating the whipped topping one spoonful at a time, stirring just enough to combine. Do not over stir.
Place chocolate whip into the fridge for at least 15 minutes, or up to an hour before serving.
Make chocolate graham cracker crumbs by adding sheets to a sealable bag and pounding them with a rolling pin. You can also pulse them in a blender or food processor.
To serve: In a dessert glass or cup, layer a spoonful of cracker crumbs, a generous heap of whipped chocolate topping, and another spoonful of cracker crumbs.
For marshmallow flowers: Use a clean pair of scissors to slice each marshmallow into about three pieces. You'll find that they naturally taper into petal shapes! Add an M&M candy as the flower bud, and enjoy!