A Podiatrist's Running Shoe Fit Guide: Assessing Arch, Gait, and Stride
Running seems like a pretty simple sport; just lace up and take off. But runners know this is far from the truth. This sport is prone to overuse injuries due to the repetitive motion over many miles. According to Podiatrist Jason Bruse, a good pair of running shoes helps alleviate many of the risks that lead to overuse injuries. But it's important to choose a pair that aligns with your own anatomy and stride. Here's what to look in your next pair of running shoes.
Checkpoint 1: Assessing Arch Support
When it comes to running shoes, support equates to how much height (or padding) is added inside the arch. It's most efficient to run with a bit of an arch, so the amount of support you need will depend on how big your arch is.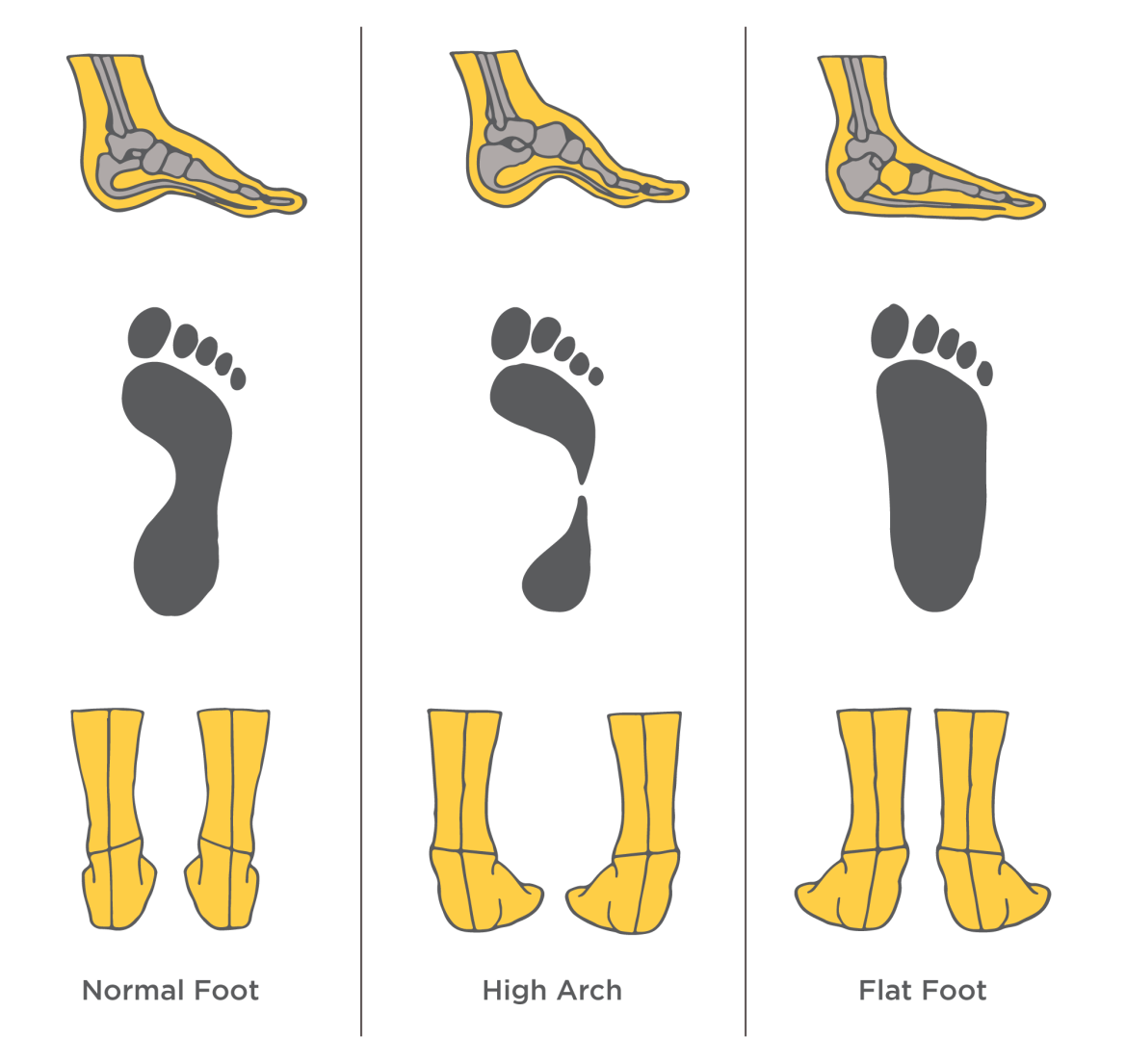 People with flat feet (low or no arch) need support more than anyone else. If you already have a high arch, adding extra support will tilt your foot outward too much and could cause injuries.
You can get an idea of your arch shape by observing a wet footprint. For a more thorough analysis, consider visiting a podiatrist for a running evaluation.
Checkpoint 2: Where to Buy Running Shoes
If you've never been to a specialty running store, it's beneficial to go at least once. At a specialty store, you can test out various pairs of shoes standing, walking, and running on a treadmill, and trained employees can help assess your gait and natural arch. They may also ask about previous injuries and other input that can help them find a complimentary shoe for you.
When you find a pair you love, jot down the brand and model then stick to it! Often, you can find your shoes online at a discounted price when it's time for a new pair.
Checkpoint 3: Sizing & Toebox
Crammed toes lead to pain, poor circulation, lost toenails, and sometimes more serious problems. Every type of foot will have problems if the toe box is too narrow. However, if a shoe feels too roomy, that's not a good thing either. Feet swell while running so Dr. Bruse advises purchasing a half-size larger than you wear. There should be room in the toe box, but not so much room that you're sliding around inside.
Checkpoint 4: Running Socks
"Runners really need to be in synthetic socks," says Dr. Bruse. "Cotton is the worst for distance runners because it holds onto moisture and keeps it against the skin." This can cause blisters, fungal infections, or athlete's foot. Consider materials like lightweight wool and nylon which are antimicrobial and wick moisture away from the foot.
Checkpoint 5: When to Replace Shoes
How do you know when it's time for a new pair? This will depend on your running style, frequency, and the surface you run on. Running shoe midsoles break down after about 300 miles (6 – 8 months), although some people stay injury-free wearing shoes over a year or two old. A few indicators that it may be time for a new pair are:
Your insoles have worn down (there is no longer shock-absorbent cushioning inside)
Your outsoles have lost their tread
You're feeling pain such as muscle fatigue, shin splints, or pain in your knee(s).
Would you like a professional running assessment?
Dr. Bruse performs running evaluations and all other podiatric services at his office in Layton, Utah. If you're training for a race or tend to be injury-prone, schedule an appointment with Dr. Bruse.