6 Freezer Meals to Prep Before Baby Arrives
With a newborn in your arms, you don't want to be thinking about what to cook for dinner. That's why many pregnant couples opt to use spare pockets of time to batch-cook meals that make life much easier once they come home from the hospital. Here are some whole-food meals you can make in your second or third trimester and freeze until your bundle of joy arrives.
What Types of Meals Should I Make?
Here's some criteria we recommend that you keep in mind as you start planning and "freezer cooking".
Choose meals that have some protein and micronutrients to ensure you're staying full while taking care of your newborn. Micronutrients are abundant in produce, so meals like soups and chilis are excellent choices.
Look for meals that are easy to reheat. Ideally, you can pop these meals into the slow cooker or the microwave in single servings.
Choose meals that are easy to "batch cook", meaning that the process of making them isn't too tedious, either. The latter half of your pregnancy is no cake walk, so try to make it as easy on yourself as you can.

Pre-baby Freezer Cooking: Breakfast Options
When Brittany Mullens, author of Eating Bird Food was pregnant, she loved batch-cooking oatmeal cups since they're nutritious and it's easy to grab a few from frozen, heat them in the microwave, then top with some nut butter. This recipe is also very adaptable: Add in your favorite fruit, spices, nuts, or keep them simple with just oats and sweetener.
TIP: Adding brewers yeast into your oatmeal cups supports lactation and may improve your milk supply.
Here's another microwave- or air fryer-friendly meal: Breakfast burritos! Making burritos at home has a few advantages over store-bought: You can customize them to your liking with veggies, seasonings, and protein, and they're substantially less expensive.
Like burritos, breakfast sandwiches are much more affordable than a drive-thru run. This recipe makes life even easier since you can bake your eggs all together on a sheet pan, then slice them up into sandwich-size servings.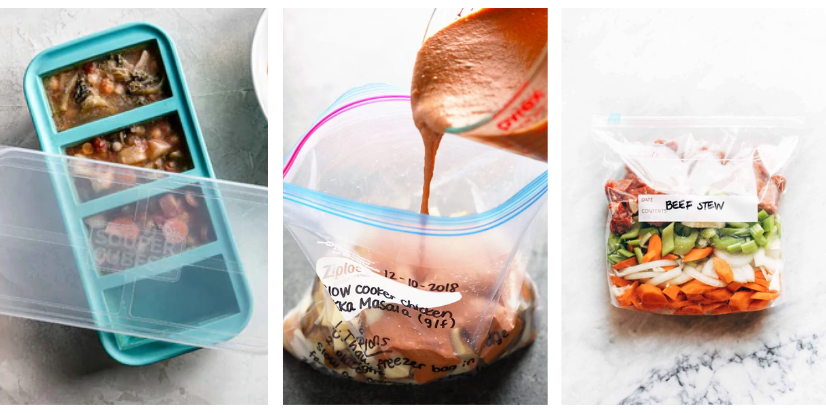 Pre-baby Freezer Cooking: Main Courses
Souper Cubes are a convenient way to store single servings of soup, chili, and other meals. Once frozen, you can remove the "blocks" of food from the silicone mold and store them in your freezer until you're ready to eat. The smaller portions reheat easily over the stove, although you may want to thaw meals a few hours in advance. Check out Souper Cubes here.
TIP: Anytime you make soup, chili, or pasta meals, double the batch and freeze half of it for after baby arrives.
It doesn't get much easier than warm up and eat. Here's a popular freezer friendly meal from Fit Foodie Finds that has easy prep work and even easier cooking. The post above also includes five other slow-cooker freezer meals.
Simply chop veggies, slice beef into cubes, and pour in some tomato sauce and seasoning—meal prep is done. Throw it all into the slow cooker and it cooks itself! Pinch of Yum has an entire series of real-food freezer-friendly meals linked below. If your family enjoys slow cooker (or InstantPot) cooking, check out these printables from Pinch of Yum.
***
Spend less time worrying about dinner and more time enjoying life with your new baby. If you're not pregnant but know someone who is expecting a baby soon, consider gifting them a few freezer meals—it's a thoughtful gift that every new parent would appreciate.