Double Chocolate Almond Nice Cream [Recipe + Video]
Frozen treats are back in season! For National Chocolate Icecream Day, we're whipping up a tasty ice cream alternative that's:
Plant-based
Dairy-free
Easy to make
Made with whole ingredients
It's Chocolate Nice Cream!
At its simplest, ice cream is frozen bananas blended up into soft serve, but add in additional ingredients like chocolate, cherries, or nuts, and it's like owning your own ice cream shop! This vegan treat is just as delicious as ice cream without the need for added sugar or a complicated ice cream maker—all you need is a strong blender or a food processor.
For the sweetest flavor, use bananas that are very ripe. This recipe is a great way to use up your extra bananas that are ripening faster than you can eat them. Simply slice bananas into 1-inch pieces and freeze them in a bag or a container for easy prep work. Bananas can be kept in the freezer for up to two months and it's so easy to grab a couple of handfuls and make nice cream all summer long.
Get Creative with Your Nice Cream!
Chocolate almond is an indulgent treat the whole family will enjoy–but there are many other possibilities, too. All nice cream bases are made with frozen bananas and milk of choice. These are a few other tried-and-true combinations:
Toss in frozen strawberries and a tablespoon of honey for strawberry-banana nice cream.
Add 4-6 drops of pure peppermint extract, some chocolate shavings, and a pinch of spirulina powder for mint chocolate chip.
For a tropical twist, blend frozen pineapple with your bananas, then stir in coconut shavings for pina colada ice cream.
Love coffee? Blend in a tablespoon of instant coffee and add chocolate chunks for mocha-chip nice cream.
Have you tried nice cream yet? If so, what's your favorite combination?
Double Chocolate Almond Nice Cream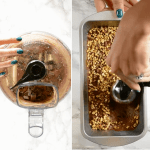 Sneak in a serving of fruit with this indulgent summer treat. Chocolate almond nice cream is plant-based and doesn't require an ice cream maker!
Course Dessert
Servings 4 scoops

Ingredients
3 ripe bananas (frozen)
1/2 cup almond butter
1/3 cup chocolate chunks or chips (optional)
1/4 cup chopped almonds
2/3 tbsp milk of choice
3 tbsp cocoa powder
Instructions
Combine frozen bananas, almond butter, and cocoa powder into a blender or food processor and begin blending. Drizzle in milk to create a smooth consistency.
Once smooth, add chocolate chips and pulse 2-3 times until just combined.
Spoon mixture into a loaf pan and top with chopped nuts. Freeze at least 5 hours before scooping and eating.