Rod Grogan, PA-C, Explains Why Veterans Day Is Important to Him
This Veterans Day, we had the opportunity to sit down with one of Ogden Clinic's own veterans – Rod Grogan, PA-C – to ask what Veterans Day means to him.
Q: What inspired your interest in Veterans Day and in military veterans as a whole?
A: My father, actually. He was part of the Greatest Generation. He was a bomber mechanic initially stationed in Ireland as part of the lend-lease program during WWII. He worked on the hydraulics for all the bombers over there – everything from B-17's to B-24's.
Interestingly, when they lacked enough people to man bombers – whether due to illness, injury or death – they just grabbed members of the ground crew like my father. So my father flew several missions over Western Europe as a gunner.
Hydraulics were so very important to planes at that point in history. My dad was also a hydraulics specialist in the glider program, as well. He was integrally involved with the gliders used on D-Day. After D-Day, he played a role in gathering the gliders in preparation for further action. He actually rebuilt gliders that were eventually used for Operation Market Garden, launched only three months after the D-Day invasion, so he was a busy man.
Another thing that captivates me about history is the fact that so much human innovation and medical advances can be traced back to the necessities created by warfare. It's really an unfortunate, tragic reality that so many of the technological improvements we enjoy today were initially created for war – everything from medical innovations to communication technology.
Q: What else interests you about history?
A: I have great interest in the American Civil War and the history of the American West, as well. I love horses. When I moved out here to Utah, I bought my first horse. And then a friend of mine asked me to join his cavalry group. This group takes part in reenactments portraying everything from 1848 to 1892. I've got United States Cavalry uniforms and replica weapons that are needed to represent any particular moment throughout that span of American history. I've really had a lot of enjoyment from participating in those reenactments.
Q: What reenactment did you enjoy the most?
A: Actually, as reenactors, we're often asked to play "extras" in movies and television, because it's cheaper to have us do it than to hire actors and buy their wardrobe. Our unit was actually in the land rush scene in the film "Far and Away." I was able to meet Ron Howard – really one of the nicest guys you'd ever want to meet. It was a lot of fun. That experience is near the top of my list. My equipment also played a small role in the movie "Gettysburg."
Q: You served in the Air Force?
A: Yes, I served in the Air Force for 22 years. I was originally a med-tech/corpsman, and then I became a laboratory tech. I was then given the opportunity to go to physician assistant (PA) school when PA schools were fairly new. I'm first-generation PA.
I did a lot of different things during my military career. I became one of the first military emergency-room-certified physician assistants in the country. Then I worked as part of several different programs. I was in medical intelligence – teams that were taken into possible combat zones before they were combat zones and we took a look at, medically, what the needs would be there. We looked at disease processes, possible chemical warfare and possible hazardous materials in those areas.
We tried to investigate everything we possibly could. We discovered several different things in the intestinal tracts of local residents that would almost never be found in the tract of an American soldier. We needed to be prepared for things like that and how the local diet might affect any emergency medical situations that might arise.
Q: Did you serve in Vietnam?
A: I received a draft notice for Vietnam. I guess you might say that I "lucked out," though. Just as I was about to be deployed to Vietnam, the war ended. So I ended up being part of what was called "Operation: Welcome Home." The prisoners of war (POW's) were brought back from North Vietnam, and we all took care of them. Essentially, each was assigned to a POW and we took care of them individually. The idea was that each POW would always have someone there with them to take care of them in the hospitals as they transitioned.
Q: Has that experience stuck with you?
A: It has. Even today I actually have several patients that were POW's in Vietnam. These former POW's now live here in northern Utah. One individual was actually captured by the Vietcong. This individual endured some terrible things. He is a great man, and I have tremendous respect for him.
It's important to realize that PTSD is very real. PTSD has gone by many different names over the centuries, but it is a condition that has always plagued soldiers in every war ever fought. Thankfully society is now aware of PTSD for what it is. Veterans are receiving much better treatment for PTSD today than they have in generations past, and I'm very grateful for that.
***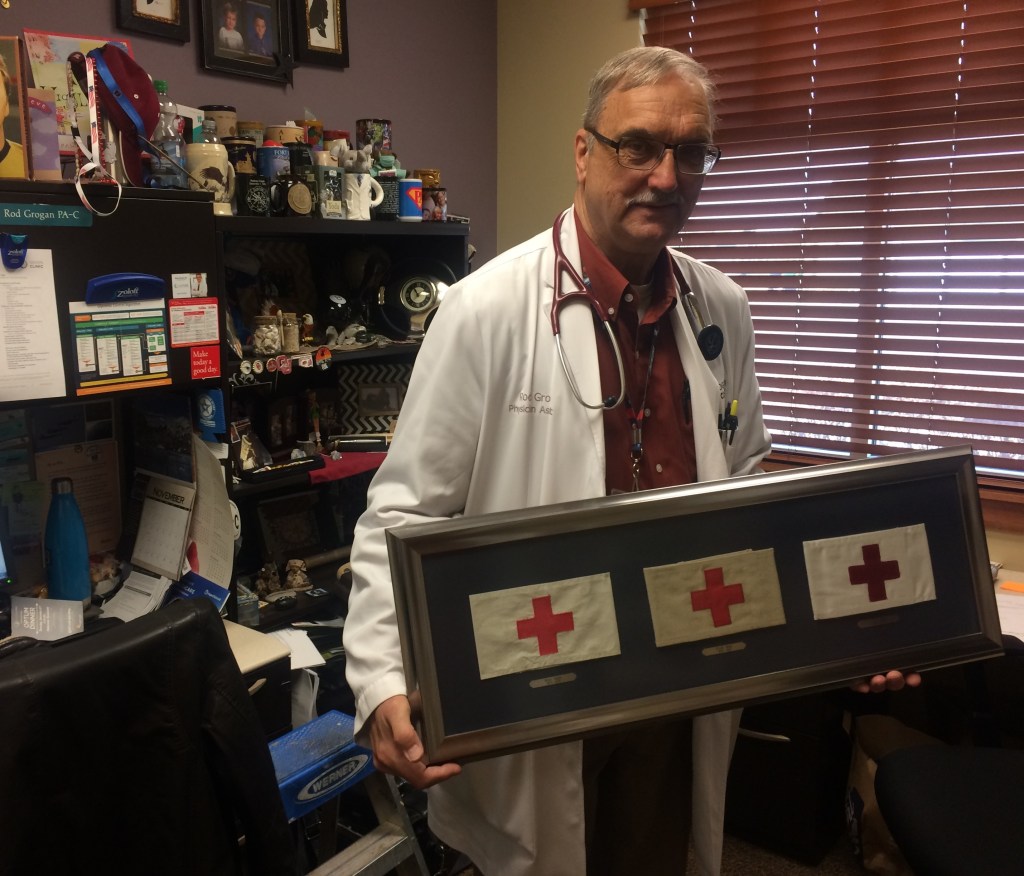 Rod Grogan, PA-C
Rod Grogan, PA-C, practices at Ogden Clinic | Grand View in Roy, Utah. To schedule an appointment with Rod, please click here or call 801-475-3900.