What to Consider in Your Birth Plan
Early in pregnancy, you're probably thinking about baby names and planning your home around the new arrival. The reality of labor may seem far off, but now's the time to start thinking about specific birth preferences you may have.
What's a Birth Plan?
The term "birth plan" can be misleading: it's less an exact plan and more of a list of preferences. There are many variables affecting labor that you can't always predict, but the goal of a birth plan is to help you and your partner realize and plan for what's most important when you give birth.
The ultimate goal of every healthcare provider is to safely deliver your baby, so please remember to be flexible with all expectations. Here are some labor and birth options to think about as your due date approaches.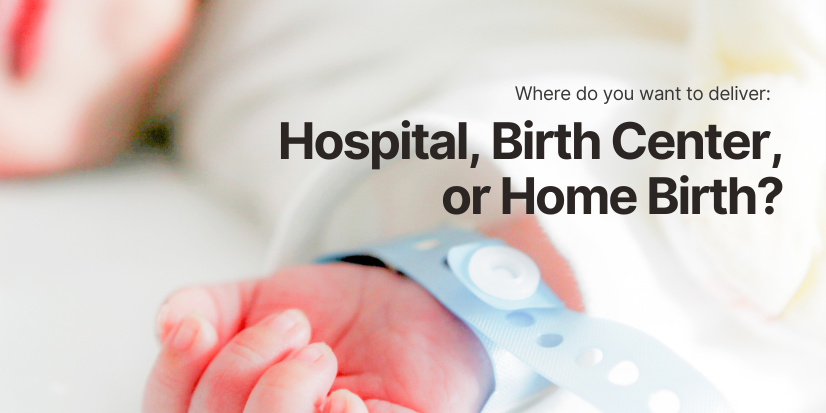 Giving Birth at a Hospital
The majority of women in the U.S. give birth in a hospital labor and delivery unit. Birthers in hospitals have access to a wide range of medical interventions including continuous monitoring, pain medication and labor-inducing Pitocin, and they're also down the hall from an operating room in case a Cesarean section (C-section) becomes necessary. You can be attended by a doctor or a midwife in a hospital.
Intervention rates are the highest in hospitals; more than half of women get epidurals and the chances of having a C-section are the greatest.
Is a hospital birth right option for me?
Women who choose hospital births may have a health condition that requires more advanced medical care. They may know that they want to have an epidural for their birth, or they may simply feel most comfortable in a hospital setting.
Giving Birth at a Birth Center
The American Association for Birth Centers defines a birth center as "A home-like setting where care providers, usually midwives, provide family-centered care to healthy pregnant women. Most birth centers are located separately from hospitals, while a few are physically inside hospital buildings."
A study of over 15,000 women found that birth centers are a safe place for women with low-risk pregnancies. Birth centers work with hospitals, so if an issue comes up during your birth, you can be transferred to receive appropriate medical care.
Is a birth center the right option for me?
Those who choose birth centers have low-risk pregnancies and want an unmedicated birth in a cozy setting, but may not be able or want to have a home birth. Some birth centers will administer some forms of pain medications, but not epidurals. However, they do offer several different labor techniques designed to mitigate pain.
Giving Birth at Home
Just 1% of women have home births, but this number is on the rise. If you choose a home birth, you'll be attended by a certified midwife (though some physicians do make house calls). The midwife will bring a large kit of equipment with them, including emergency medications and oxygen. They'll check the baby's heart rate periodically with a doppler and will be there to ensure your and your baby's safety throughout  labor and birth. People often ask about the safety of home birth, and indeed it is a controversial topic that requires considerable thought and determination. Women who have home births tend to have fewer interventions and many describe the experience as life-changing.
Is home birth the right option for me?
Those who choose home births have low-risk pregnancies; want to have unmedicated, low-intervention births; and feel that they will be safest and most comfortable birthing at home.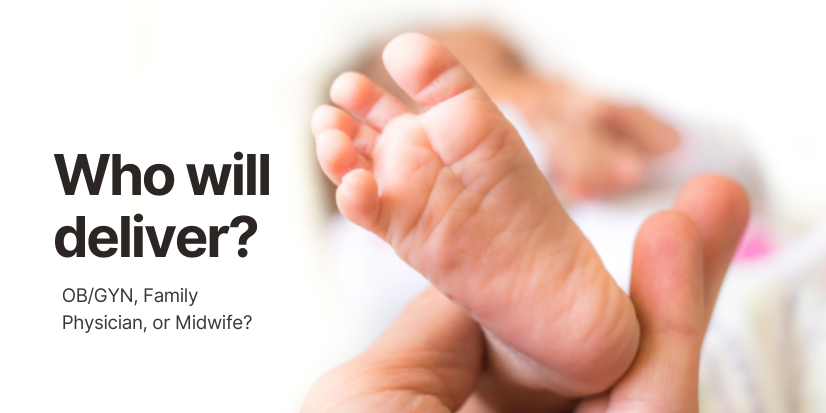 Obstetricians (OB/GYNs) are medical physicians who specialize in pregnancy and delivering babies, as well as gynecological care. OB/GYNs care for all types of pregnancies including high-risk, C-sections, and birthing multiples. They can perform surgery if needed and work inside hospitals.
Family Physicians are doctors who care for the entire family, and this sometimes includes pregnancy and birth. They usually care for low-risk pregnancies, though this is not always the case. While some Family Physicians work inside birth centers, most deliver at hospitals.
Certified Nurse Midwives (CNMs) are highly trained professionals who provide holistic care and support to women through birth, and post-partum. Midwife care often results in fewer medical interventions, though you can certainly still have an epidural, ultrasounds, and other procedures with a midwife. If you require medical interventions during your pregnancy or birth, you will likely be transferred to an OB/GYN.
Doulas do not deliver babies, but some women choose to hire one during labor. A doula is trained professional who provides continuous physical, emotional and informational support to their client during labor and deliver. They may assist with breathing, massage, and/or comfort techniques.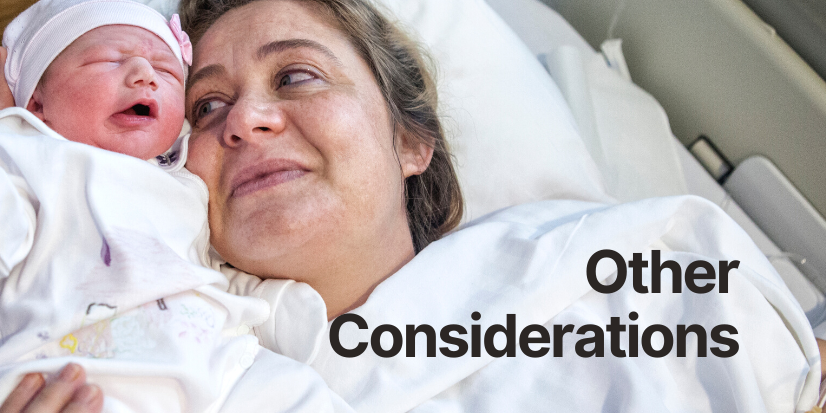 Who will be with you during the delivery?
Some women will choose to have a doula or labor coach with them for support, others will have their spouse, parent, and/or another family member present. Regardless of who you invite into the delivery room, choose people who can create a supportive environment and help you feel calm and comfortable.
What are your wishes during a normal labor and delivery?
These range from how you hope to handle pain relief to fetal monitoring. Think about the environment in which you want to have your baby, who you want to have there, and what birthing positions you prefer to use.
---
Ogden Clinic's Women's Health team includes experienced OB/GYNs, a Certified Nurse Midwife, and a team of qualified Nurses and Medical Assistants. We are the preferred Women's Healthcare group in Weber and Davis Counties, with 1000+ 5 star reviews on Google. We are located inside three Northern Utah hospitals and accept nearly all insurance plans. Learn more about Obstetrics at Ogden Clinic here.