Pregnancy (Obstetrics)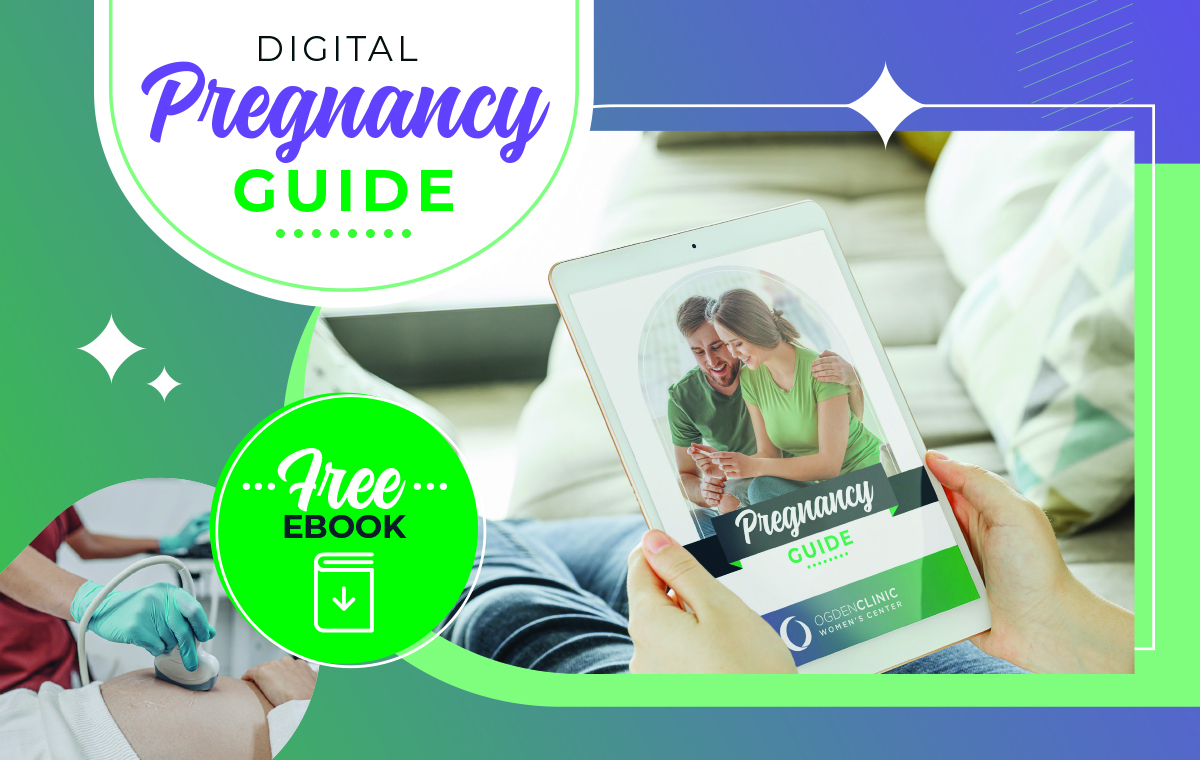 Attend a class with our pediatricians
Whether you're expecting your first baby or your fifth, a single baby or multiples, every pregnancy and birth is unique. To meet your individual needs, Ogden Clinic's Obstetrics team works to support you and your growing family with healthcare tailored to each mother and baby. We welcome you to our supportive, family-centered environment conveniently located inside local hospitals.


​​MEET OUR PROVIDERS
​| ​​ VIEW LOCATIONS
What to expect when you're expecting

First Trimester
(0-13 weeks)
Your first prenatal visit is an important step in your pregnancy journey. During this visit, you will have the opportunity to meet your obstetrician and receive important information and guidance. Here's what you can expect at your first prenatal visit and throughout your first trimester:
Confirmation of pregnancy: Prenatal care begins around eight weeks into pregnancy. At the first prenatal visit, your Ogden Clinic OB/GYN may conduct a lab test and perform an ultrasound for early pregnancy testing, and confirm your due date.

Physical exam & vital signs: Your OB/GYN will perform a complete physical exam, measure your blood pressure, check your weight, and monitor your baby's heart beat.

Review medical history: Your provider will ask about your medical history, including any prior pregnancies or health conditions, to help determine any potential risks during your pregnancy.

Uterine measurement: Uterine measurement during pregnancy is a routine and non-invasive procedure that helps your doctor monitor the health and development of your baby and ensure the best possible outcome.

Lab tests: Your OB-GYN may order blood tests to check for anemia, check your blood type, and screen for certain conditions such as gestational diabetes.

Questions and concerns: This is a great opportunity for you to discuss expectations and ask any questions/concerns you may have about your pregnancy. Your OB/GYN is there to support you and answer any questions you may have.
Follow-up visits during your first trimester typically occur every 4 weeks.

Second Trimester
(14-26 weeks)​
In your second trimester, your OB/GYN will continue to monitor your health and the growth and development of your baby, and provide guidance and support throughout your pregnancy. You will have regular appointments every 4 weeks.
Labs and Other Testing

Genetic testing/counseling: Your OB-GYN may discuss genetic counseling options with you, especially if you're considered high-risk due to your age or family history. Between 16-18 weeks, maternal serum screening is available to screen for birth defects and placental problems.

Between 21-28 weeks, you will be screening for diabetes and anemia.

Ultrasounds:

19-20 weeks: you will receive an ultrasound to determine gender (if you desire). The other purpose of this ultrasound is to examine the baby's spine, head, and placenta.

26 weeks: At 26 weeks, the Ogden Clinic Women's Center welcome expecting mother's the option to schedule a 3D Live Ultrasound. This is an innovative technology that captures crisp and realist images of your baby in high definition.

Monitor Fetal Movement: You should start to feel your baby move by 20 weeks into pregnancy. If you notice a significant decrease in movement, you will want to visit our office for fetal monitoring.

Birthing Plan: During your second trimester, you will want to take some time to start thinking about birthing options and your preferred method of delivery. Your OB/GYN will be available to discuss these options with you and help you make informed decisions about your delivery.

Third Trimester
(27-38 weeks)
Visits in your third trimester will become more frequent and additional visits may be necessary to address problems or complications that may arise. Ultrasounds also take place in our office throughout your pregnancy to ensure the baby is developing strong and healthy.
Labor and Delivery

We understand that every birth is unique and special, and our team is committed to working with you to create a birth plan that meets your individual needs and preferences. We will be there to guide you and provide you with the support you need to bring your new baby into the world.
We offer a variety of birthing options including traditional labor, natural birth, VBAC, and cesarean sections. We also offer specialized care for high-risk pregnancies, including premature delivery and multiples pregnancies. Our team of experienced specialists is dedicated to providing the best possible care for you and your baby.
What if my doctor is unavailable when I'm ready to deliver?
Our patients are ensured access to an Obstetric physician 24 hours a day, seven days a week. Our laborists are physically located at the hospital, certified and experienced. Your doctor will make every effort to be present during delivery, but if he or she cannot be there, trust our onsite Laborist and their exceptional team of nurses. All laborists are certified and experienced in high-risk pregnancies, Cesarean section deliveries, and other complications.
Postpartum Care

Our postpartum care services include recommendations for lactation support, and counseling. During your postpartum check-ups, your OB/GYN will monitor your physical recovery and provide you with important information about your postpartum health. Our lactation consultants are available to assist you with breastfeeding and provide you with tips and resources to help you successfully breastfeed your baby.
Testimonials
"Dr. Scott Rynearson helped us through the process of getting pregnant, during my high-risk pregnancy, and he delivered our twins. I've never had a doctor who has been more attentive or approachable. He never made me feel rushed, no matter how busy he was. He was genuine, caring, and validated any concern we had. I would enthusiastically recommend him to anyone looking for an OB!" Shaylee F.
"Dr. Bryan Palmer at McKay Dee Hospital is the best OBGYN!! I could not have asked for a better doctor for my first pregnancy. Will return with him with all my future pregnancies." Adriana L.
"For high-risk pregnancies, Dr. Vegh is absolutely amazing! She helped through my ectopic pregnancy, emergency surgery and healing and she was so respectful, answering any and every single question I had." Lindsee B.

"Dr. Larsen and Dr. Ferguson were my high-risk doctors during my pregnancy and both were incredible. Dr. Ferguson did my C-section and I absolutely would not have chosen someone better." Joee L.

"Kirk Lammi at Mckay Dee is an amazing obstetrician. Delivered my preemie and checked up on me multiple times in the hospital. He checked on my baby in the NICU as well which is so kind. Plus, he has an amazing nurse." Hannah S.