Lymphedema Management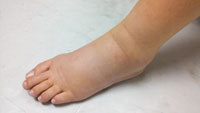 There is no cure for lymphedema, but symptoms can be managed. People with lymphedema experience a build-up of lymph fluid in the tissue just under their skin caused by an inability to drain lymph fluid. Lymphedema occurs most often in the arms and legs and there are two different types:
Genetic lymphedema is the result of having too few lymph nodes or lymph nodes that do not function as they should;
Acquired lymphedema is caused by infection, surgery, radiation cancer treatment, malignant tumors, or anything that changes the lymph system. Most lymphedema cases are acquired.
Medication and diet changes have no effect on reducing lymphedema. The best treatment option to reduce swelling is physical therapy from a lymphedema specialist.
Symptoms of lymphedema include:
Swelling in all or part of your extremity
Limited movement in the affected limb
Discomfort or aching in the affected limb
Discolored or dry skin in the affected limb
Lymphedema management with physical therapy
Lyphedema specialists at Ogden Clinic are trained to help sufferers reduce their swelling and control discomfort. During the acute phase of lymphedema, your Ogden Clinic specialist will use compression bandaging, gentle contraction exercises, and manual lymphatic drainage (MLD) treatment to reduce the initial swelling. This treatment occurs in subsequent visits that may last between one and five weeks.
Lymphedema self-management
Lymphedema management is a cooperative effort between the specialist and the patient. After the swelling has been reduced, it's important to continue certain treatments on your own at home. Your Ogden Clinic lymphedema specialist will educate you (and even a family member) on the proper massage techniques to drain lymph fluid. Light exercises, skin care, and compression garments will remain part of your at-home regimen.
You'll still visit your lymphedema specialist for follow-up care, although visits tend to occur less often when patients take an active role in their treatment.
Select providers are now using Telemedicine.
Visit Telemedicine to see if your next visit can take place over video chat.