Pediatric Skin Conditions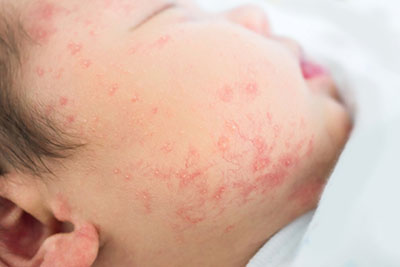 Infections, inflammation, and reactions are just a few of the many causes of pediatric skin conditions treated at Ogden Clinic. Rest assured parents: most children will have a skin condition at some point in their lives since young skin experiences many developmental changes. Young skin is also susceptible to viral, bacterial, and fungal infections from infancy throughout adolescence.
When a skin condition arises, contact our Pediatric department to speak with one of our experienced pediatricians. Ogden Clinic Pediatricians have extensive knowledge in the field of pediatric dermatology and will work with you to determine the best treatment plan for your child's condition. We take the time to educate parents about their child's condition to help ensure proper treatment. Skincare treatment from Ogden Clinic may include topical or oral medication for a period of time. This gentle yet effective treatment allows children to engage in their everyday activities while efficiently managing their ailment.
Visit an Ogden Clinic Pediatrician at the first sign of a rash, lesion, or infection. In many cases, early detection can promote a lifetime of healthy skin for your child.
We treat a broad spectrum of pediatric dermatology issues including:
Eczema
Impetigo Lesions
Lice
Pediatric acne
Psoriasis
Rashes
Skin infections
Warts
Select providers are now using Telemedicine.
Visit Telemedicine to see if your next visit can take place over video chat.